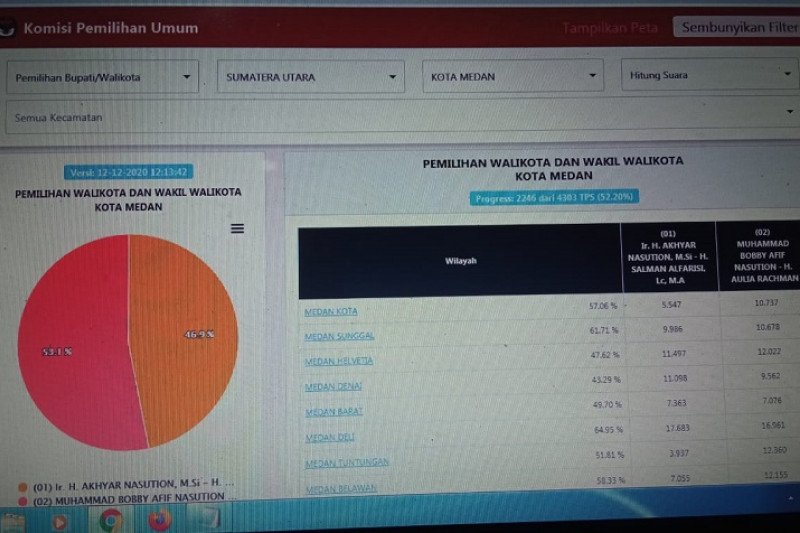 Candidate pair number 02, Muhammad Bobby Afif Nasution and Aulia Rachman, maintained their lead in Medan city's mayoral election, grabbing 198,526 votes, or 53 percent of the total votes counted as of Saturday.
The counting of ballots is currently underway.
Candidate pair number 01, Akhyar Nasution and Salman Alfarisi, have so far obtained 175,811 votes, or 47 percent of the total votes counted, according to the official website of the General Elections Commission (KPU).
As of 12.10 p.m. local time on Saturday, 51.06 percent of the total votes polled had been counted. The counted votes were contributed by 2,197 of the 4,303 polling stations in Medan.
Related news: COVID-19 rapid testing commences for election supervisors in Medan
Related news: President Jokowi performs Tortor dance during daughter`s Batak wedding procession
Medan city's mayoral election is being politically perceived as the most interesting in North Sumatra owing to one candidate's personal relationship with President Joko Widodo, and the city's status as Indonesia's third largest after Jakarta and Surabaya.
Known as the husband of President Joko Widodo's daughter, Kahiyang Ayu, Bobby Nasution has the support of eight political parties, including the Indonesian Democratic Party of Struggle (PDIP), Great Indonesia Movement Party (Gerindra), and Golkar Party.
Meanwhile, the pairing of Akhyar Nasution and Salman Alfarisi is backed by just two political parties -- the Democratic Party (PD) and the Prosperous Justice Party (PKS).
On voting day on Wednesday (December 9, 2020), candidate number 01 for Medan mayor, Akhyar Nasution, voted at Polling Station No.22 in Pulo Brayan Darat 2 neighborhood of Medan Timur subdistrict.
Meanwhile, Akhyar Nasution's rival, Bobby Nasution, and his wife, Kahiyang Ayu, cast their vote at Polling Station No.022 in Taman Setia Budi Indah housing complex of Asam Kumbang neighborhood, Selayang subdistrict.
No matter who wins, the leadership and capability of the newly-elected Medan mayor and his deputy will soon be tested by several serious problems in multiple sectors.
Flooding is one of them. Just five days prior to the convening of the Medan mayoral election, flash floods had swept through some parts of Medan and its outskirts.
Medan city's residents are keen to rid the city of flooding. They are also seeking to make their city among Indonesia's most livable, with relatively-low crime rates.
At present, Medan lags far behind Jakarta, and, even, Surabaya, the capital of East Java province, on this score.
Therefore, it is crucial that the current mayoral election not be seen as a routine democratic process that takes place once every five years. Instead, the mandate must be to create promising urban living conditions for Medan's residents.
In this election, Medan's voters are keen to install a mayor and deputy mayor who can beautify their city and make it livable for all.
Related news: Mandate for new Medan mayor: Make city livable
Related news: Medan authorities warn residents against consuming Bederah River water
Reporter: R013
Editor: Mulyo Sunyoto
Copyright © ANTARA 2020