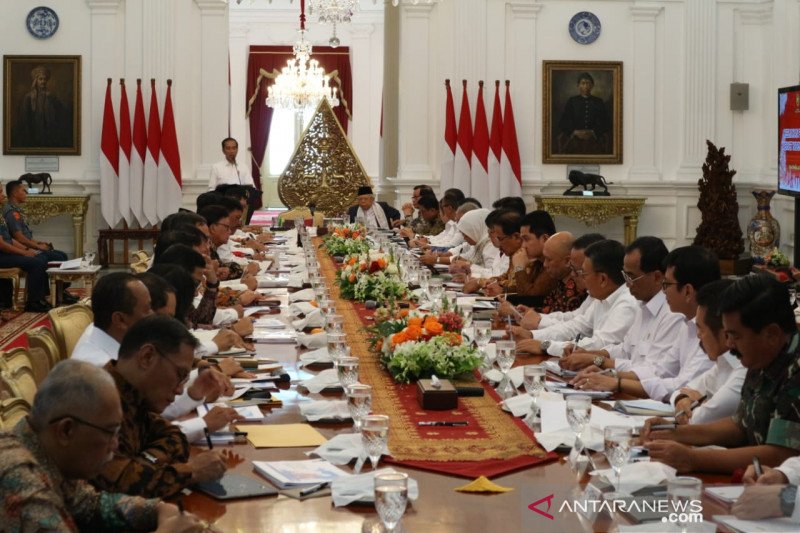 You are all allowed to have bitter debates at the meetings. I will listen to you, but once it has been decided, we must follow it up at all risks
President Joko Widodo (Jokowi) reiterated his warning that none of his cabinet members will be allowed to lead their ministries based upon their own visions and missions during the first plenary meeting of his Indonesia Onward Cabinet 2019-2024 here on Thursday.
Jokowi told his cabinet members about several ministers from his first leadership term who failed to thoroughly understand the president and vice president's vision and mission when leading their ministries.
Drawing attention to the absence of a ministerial vision, despite the president and vice president having in place their vision and mission, is one of the seven instructions that Jokowi had expressed when announcing his cabinet line-up on Wednesday.
"So, please jot down that the only vision and mission that each ministry should implement is the one belonging to the president and vice president because, in the past, there were one, two, or three ministers who failed to understand it," he said.
He further reminded the ministers that whatever decisions that had been made at every meeting should consistently be followed up, without exception.
"You are all allowed to have bitter debates at the meetings. I will listen to you, but once it has been decided, we must follow it up at all risks," Jokowi said.
Further reminding the ministers of this vision and mission-related matters, Jokowi also highlighted the need to ease requirements for industries that could boost Indonesia's exports.
"I have repeatedly conveyed this statement. If there are export-oriented industries, or those intending to produce goods to substitute for imports, please do not take too long to sign (the documents of approval)," he said at the meeting, taking place at the Merdeka Palace.
President Jokowi noted that the central and regional governments must set their targets to create more job opportunities, because they are needed by the people at large. To this end, those industries that are able to provide jobs for the people need to be served well.
Related news: Jokowi chairs foremost plenary meeting of Indonesia Onward Cabinet
At the meeting, he also warned his cabinet members about working cooperatively as one team, instead of implementing their own programmes to boost Indonesia's development.
"Our work is team work. It is not the goals belonging to each minister. It is not a sectoral ego," said Jokowi, who was accompanied by Vice President Ma'ruf Amin at the meeting, held one day after Jokowi and Amini made an announcement about their new cabinet line-up.
In building a great nation such as Indonesia, the ministries and government agencies can not work alone with different agendas, he said.
Instead, all ministries are to be supervised by coordinating ministries, said the President.
Therefore, all ministers should be present if they are invited by their coordinating ministries to strengthen the team work among related ministries for advancing the country's development goals, he said.
(INE)
Related news: Ease requirements for export-oriented industries: Jokowi

Related news: Jokowi urges cabinet members to collaborate as one solid team
Related news: Greenpeace campaigns on clean energy, alerts Jokowi's cabinet
Reporter: R013
Editor: Fardah Assegaf
Copyright © ANTARA 2019