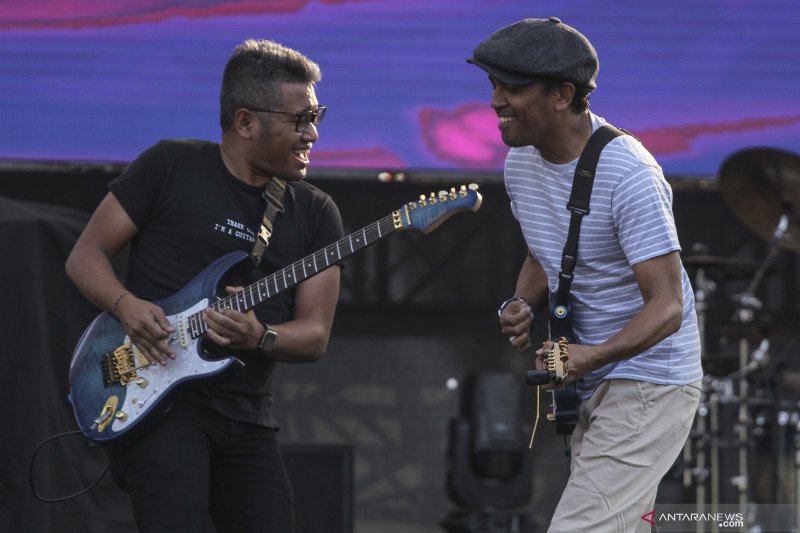 Musician Glenn Fredly performed at the Music for Republic concert in Cibubur Camping Ground, Bogor District, West Java Province, on Sunday by echoing the message of peace on the homeland of Papuans.
Born in Jakarta on Sept 20, 1975, this pop singer selected several songs showcasing his great love for the land and people of Papua, including the "Land of Promise" and "Yamko Rambe Yamko".
Speaking to journalists on the sidelines of the concert, which was held for celebrating the Indonesian presidential inauguration, Fredly said it was so important to highlight the message of peace for Papua through such great event as this "Music for Republic".
"Due to the title of this event, the significance of Papua is obvious in this context. And, Papua represents the eastern part of Indonesia, and I think, voicing eastern Indonesia is undoubtedly important," he said.
Related news: Government offers security guarantee to all Indonesians in Papua
Fredly believes that music and arts are appropriate for cementing the unity and social cohesion among pluralistic community members.
"The arts and culture are one of the strengths that cannot merely be treated as a substituting entertainment. Instead, such this music concert must also be used as a way to educate people," he said.
Due to the important role that it could play for cementing the unity in diversity in the Indonesian society, the convening of this Music for Republic concert should highly be appreciated.
"The musicians who participate in it and those behind its backstage should be appreciated. This event is as important as the People's Consultative Assembly (MPR) sessions," he added.
Related news: Police name 94 suspects in Papua violence cases
Glenn Fredly's message of peace for Papua meets its context by considering an unbreakable circle of violence in the provinces of Papua and West Papua.
Over these past two months, a spate of violence broke out in several parts of Papua and West Papua in the upshot of the Surabaya incident and fake news that had triggered public ire among native Papuans.
On August 28, violence broke out in Deiyai District, some 500 kilometers away from Jayapura, resulting in the deaths of an army soldier and two civilians.
Protests were again held on August 29 by the indigenous Papuan residents of Jayapura, as they vented their ire over the alleged racist behavior against their Papuan compatriots in Surabaya, but their rally then turned violent.
On September 23, a deadly riot had erupted in Wamena, the capital city of Jayawijaya District, Papua Province, killing 33 civilians, including a senior medical doctor, who had served the native Papuans for 15 years.
Related news: Stay alert, Papua police chief warns Mimika policemen

Related news: Jokowi confirms total evaluation of Papua's special autonomy status
Reporter: R013
Editor: Fardah Assegaf
Copyright © ANTARA 2019