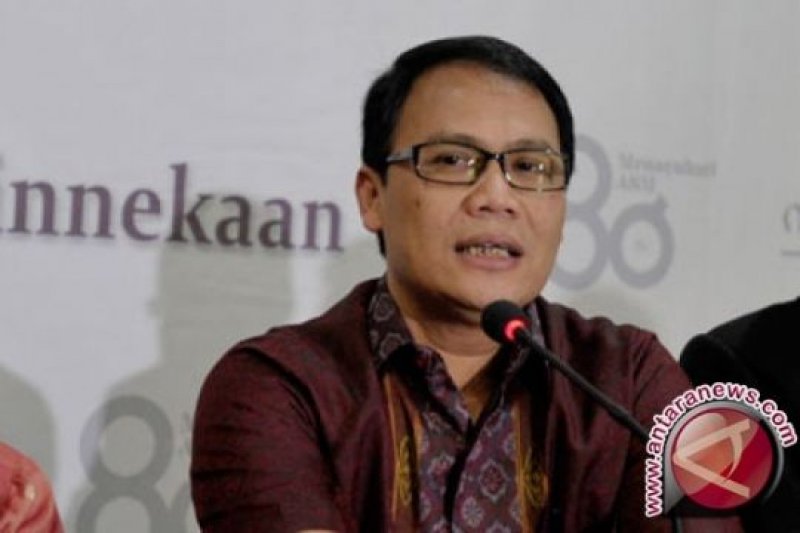 The Indonesian Democratic Party of Struggle (PDIP) has yet to propose and submit names of his future cabinet members to President-elect, Joko Widodo (Jokowi), the party's deputy secretary general, Ahmad Basarah, said.
"Proposing names of the PDIP cadres to President-elect, Joko Widodo, is the prerogative right of the PDIP General Chairperson, Megawati Soekarnoputri," he told journalists here on Thursday when asked about the cabinet line-up issue.
As the winner of the recent parliamentary elections, PDIP would be accommodated in Jokowi's future cabinet line-up but the cadres would be proposed by Megawati, he said.
"At the moment, none of the PDIP cadres have been proposed to the president-elect," he said, adding that all matters related to the cabinet line-up would be discussed with all coalition party leaders at the appropriate time.
However, constitutionally, the president-elect has a prerogative right to make up his cabinet line-up but he needs to consult those filling the cabinet posts with the coalition party leaders, Ahmad Basarah said.
President-elect, Joko Widodo, himself has hinted that the new Indonesian cabinet will have members from different political parties and various professional backgrounds.
Political elites may take 60 percent of the cabinet posts, while those from professional backgrounds would make up the other 40 percent, the incumbent president, who is commonly known as Jokowi, revealed.
Speaking to journalists after attending the opening of Karya Kreatif Indonesia, a small and medium enterprises (SMEs) craft exhibition, in Jakarta on July 12, 2019, he said the blueprint of his upcoming cabinet line-up had also existed.
Many of those who had been his cabinet members in his first term would be retained, Jokowi also hinted.
Jokowi and Ma'ruf Amin have officially been declared by the General Elections Commission (KPU) as the president-elect and vice president-elect following the Constitutional Court's ruling on the presidential election result dispute on June 27, 2019.
On Sunday evening, as the president-elect, Jokowi had also highlighted his five priority programs for his second presidential term (2019-2024) while speaking at an event called the "Indonesian Vision".
He would continue to focus on infrastructure development, intensify human resource development, invite investments that can generate job opportunities, reform the structural bureaucracy, and optimize budget utilization, he stated.
The five priority programs that his administration will ensure over the next five years are expected to be able to respond to Indonesia's internal and external challenges.
Related news: Jokowi outlines five priority programs for 2019-2024 period
Considering all the challenges the nation has been undergoing, including the impact and demands of the disruption era, and Indonesia's economic growth rate, which remains at below six percent, the upcoming cabinet line-up should be filled by competent people.
Jokowi's future cabinet members must be capable and competent because they will have to deal with massive challenges, according to H. Sariat Arifia, the General Chairman of the Association of Indonesian Toy Manufacturers and Importers (P3IMI).
Related news: Awaiting Jokowi's new cabinet

Related news: Golkar lets Jokowi decide on cabinet line-up
EDITED BY INE
Reporter: R013
Editor: Fardah Assegaf
Copyright © ANTARA 2019