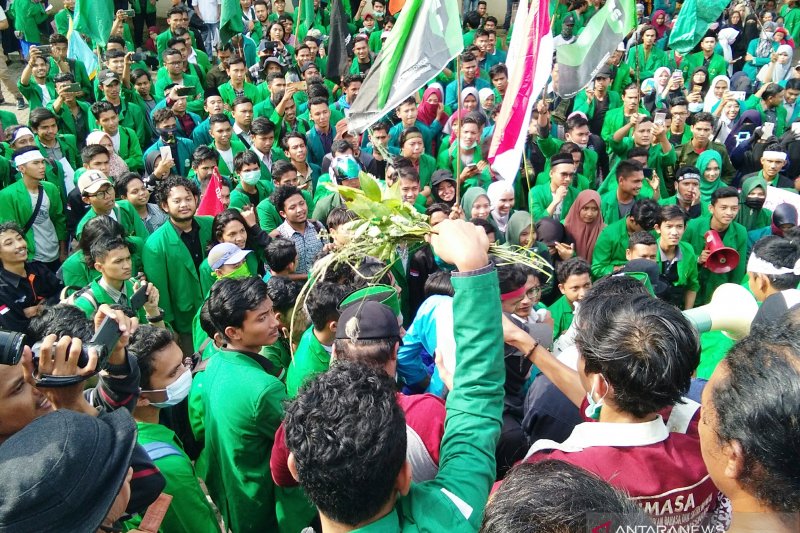 Several hundred university students in Lhokseumawe, Aceh Province, staged a peaceful rally on Thursday and echoed a message of peace and reconciliation among Indonesia's political elites, for the sake of preventing the nation from disintegrating.
The student activists, who belong to the Islamic Students Association (HMI)-Lhokseumawe-North Aceh Chapter, staged the peaceful rally in front of the North Aceh parliamentary building.
Besides demanding an immediate reconciliation among the political elites and loyalists of the two pairs of presidential and vice presidential candidates, the demonstrators also urged the government to evaluate the national police chief's performance.
According to M Atar, chairman of HMI-Lhokseumawe-North Aceh Chapter, the evaluation was needed after observing the way police anti-riot squads handled protestors in Jakarta on Tuesday and Wednesday, which saw the deaths of eight people.
In the meantime, in Jakarta, Vice President Jusuf Kalla invited several well-known persons in Indonesia, including religious and community leaders, to his residence on Thursday evening to discuss the country's current situation.
Those attending the meeting were Tri Sutrisno, Mahfud MD, Din Syamsudin, Komaruddin Hidayat, Bambang Hendarso Danuri, Abdul Mukti, Sofyan Djalil, Amirsyah Tambunan, Syafruddin, Agus Wijoyo, and Anies Baswedan.
On Wednesday, Jusuf Kalla hinted that he wanted to help important figures in the country reduce tensions, in the aftermath of the General Elections Commission's (KPU's) announcement about the recent presidential election results.
The General Elections Commission (KPU) had announced the final results of the recent parliamentary and presidential elections, declaring the victory of the Joko Widodo (Jokowi)-Ma'ruf Amin pair on early Tuesday.
The final tally that the KPU announced at around 1:28 a.m. indicated that the Jokowi- Amin pair had secured 85 million votes, or 55.5 percent of the national vote, as compared to contenders Prabowo Subianto-Sandiaga Uno's 68 million votes, or 44.5 percent.
The Jokowi-Amin pair had declared victory, while the Prabowo-Sandi pair rejected the KPU's official tabulation results and vowed to challenge it at the Constitutional Court (MK).
This unfinished political process sparked a mass protest from the Prabowo-Sandi pair's supporters, who alleged massive fraud in the presidential elections.
Tensions arose and led to a riot in the Tanah Abang area of Central Jakarta from Tuesday evening to early Wednesday.
The post-election riot that occurred from Tuesday to Wednesday has claimed eight lives and caused 541 injuries, as of Thursday at 11.00 a.m. local time, Jakarta Governor Anies Baswedan revealed.
(INE)
Reporter:
Mukhlis, Rahmad Nasution
Editor: Fardah Assegaf
Copyright © ANTARA 2019