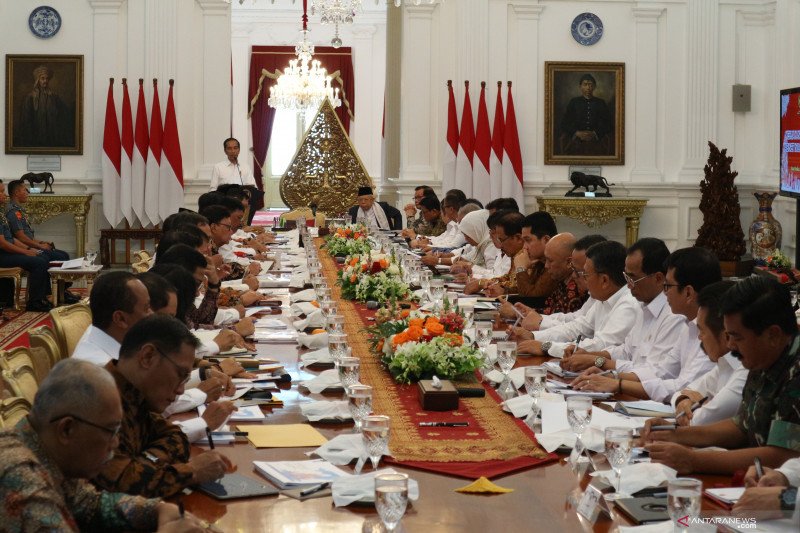 Works must be oriented toward getting concrete results. Our task is not only limited to 'sent' but until 'delivered
President Joko Widodo (Jokowi) chaired the first plenary meeting of his Indonesia Onward Cabinet 2019-2024 at the Merdeka Palace here, Thursday morning, during which he directed cabinet members and discussed the 2020 State Budget-related issues.
The meeting was held a day after President Jokowi, accompanied by Vice President Ma'ruf Amin, made an official announcement of their new cabinet line-up.
At this first plenary meeting, Jokowi was accompanied by Amin.
While officially announcing his cabinet line-up at the Merdeka Palace on Wednesday, Jokowi had made seven instructions amply clear for the ministers to follow.
"Do not become involved in corruption. Create a system that closes loopholes for corruption," Jokowi remarked.
Related news: Jokowi announces his cabinet line-up dubbed Indonesia Moving Forward
Secondly, he drew attention to the absence of a ministerial vision and mission, despite the president and vice president having in place their vision and mission.
Thirdly, the president urged his ministers to work in a hard, fast, and productive manner.
Fourthly, he reminded the ministers to not become trapped in routine and monotonous activities.
Related news: Jokowi defines seven orders for new cabinet ministers to follow
"Works must be oriented toward getting concrete results. Our task is not only limited to 'sent' but until 'delivered,'" Jokowi emphasized.
The president had earlier pointed out that a minister must not only carry out and complete his works but must also ensure that the people benefit from it.
Jokowi also instructed his ministers to check problems on the field and find solutions.
The last instruction of the president stressed on the need for ministers to work seriously.
"Those who are not serious, for sure (he or she), will be replaced," he affirmed.
While introducing his cabinet members, Jokowi also drew attention of the appointed religious affairs minister on the dire need to tackle radicalism.
Vice President Amin brought up issues related to radicalism during his meeting with Malaysian King Yang di-Pertuan Agong Sultan Abdullah Al-Mustafa Billah Shah Ibni Almarhum Sultan Haji Ahmad Shah Al-Musta'in Billah.
"I called on Malaysia together to develop a peaceful and tolerant Islam as 'rahmatan lil alamin' (graceful for the universe), so we can prevent the spread of radicalism in Islam," Amin stated in Tokyo on Tuesday.
He pointed out that Indonesia, with the world's largest Muslim population, along with Malaysia play a pivotal role in developing Islam "wasathiyah," a middle path or moderate Islam that justly balances the way of life, avoids extremes, and believes in doing things in moderation.
Both countries are expected to maintain peace in Southeast Asia.
"Indonesia and Malaysia are both Muslim-majority countries. At the same time, the ASEAN is facing the emergence of radicalism and intolerance," Amin pointed out.
Related news: Jokowi springs surprise with Prabowo's inclusion in new cabinet

Related news: Jokowi's second-term cabinet lineup features less women ministers
EDITED BY INE
Reporter: R013
Editor: Fardah Assegaf
Copyright © ANTARA 2019