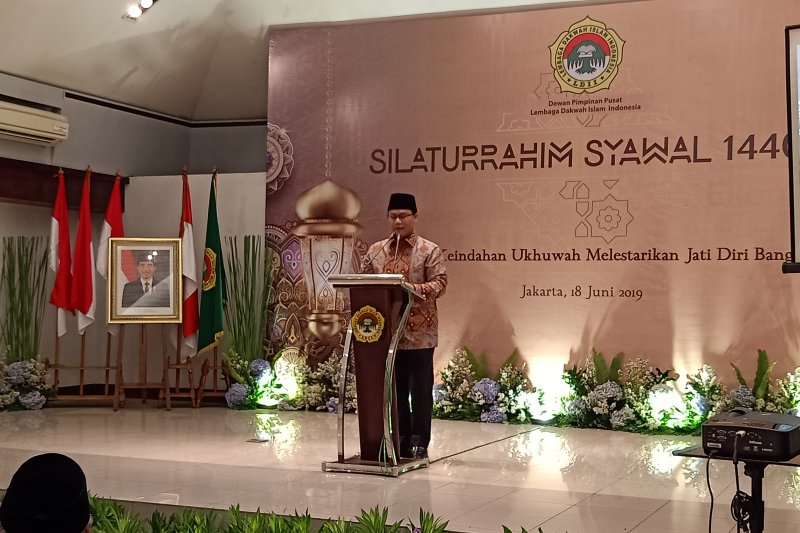 Deputy Chairperson of the People's Consultative Assembly (MPR) Ahmad Basarah invited three elements of power in Indonesia to strengthen ukhuwah (brotherhood) in order to maintain the integrity of the Republic of Indonesia (NKRI).
"I see that there are three forces in Indonesia, namely the Islamic, nationalist and TNI-Polri groups. If the three elements are united, whatever the challenges, Indonesia can face them together," he said.
The statement was conveyed by Ahmad Basara, while attending the Shawwal 1440 Hajj Gathering organized by the Central Islamic Board of Trustees (DPP) of the Indonesian Islamic Da'wah Institute (LDII) at the LDII DPP, South Jakarta, Tuesday night.
According to Ahmad Basara, of the Indonesian Democratic Party of Struggle (PDIP), it cannot be denied that the spirit of the Indonesian people has been weakened due to the impact of the dynamics of the 2019 Election.
The 2019 political situation, he said, seemed to be synonymous with fighting between nationalists and Islam.
"Nationalists are not enemies of Muslims, on the contrary, Muslims are also not enemies of this country. Precisely when the Indonesian nation merges into ukhuwah it will become a strong religious NKRI," he said.
According to Ahmad, this ukhuwah is not only a brotherhood between Muslims, but also a brotherhood of nationalities and fellow servants of Allah in this world.
He noted that this forum proves that Indonesian Islam has grown with the value of national wisdom, namely the Islamic tradition that is typical of Indonesia.
"Halal bihalal is typical of Indonesia, since it was conceived in 1948 by Sukarno when he met the fact that political reality among Indonesian leaders experienced differences of opinion and attitudes in seeking to maintain friendship," he said.
In its development, many officials in Indonesia applied other terms from halal bi halal to "open house".
"Even halal bi halal has been followed by people in developed countries, such as Singapore, with the term open house," he said.
LDII General Chair Abdullah Syam said the same.
"Our message is the same, increase ukhuwah Islamiyah (Islamic brotherhood) and prioritize tolerance to strengthen ukhuwah," he said.
According to Abdullah Syam, the NKRI must be kept intact and peaceful through cooperation for peace and increasing national morale.
"How do we maintain and be alert to the parties inside and outside who want to break our nation, so that harmony and prosperity can be maintained for our generation," he said.
The event was also attended by a number of invited guests, including Abraham Lunggana as elected DPR members, representatives of friendly countries from Singapore and Malaysia, members of the Indonesian Parliament, members of the DKI Jakarta DPRD, leaders of religious organizations, representatives of the Indonesian Ulema Council (MUI) and representatives from the Forum DKI Jakarta Religious Harmony (FKUB).
DKI Governor Anies Baswedan was unable to attend because of other activities.
(INE)
Reporter: E002
Editor: Fardah Assegaf
Copyright © ANTARA 2019