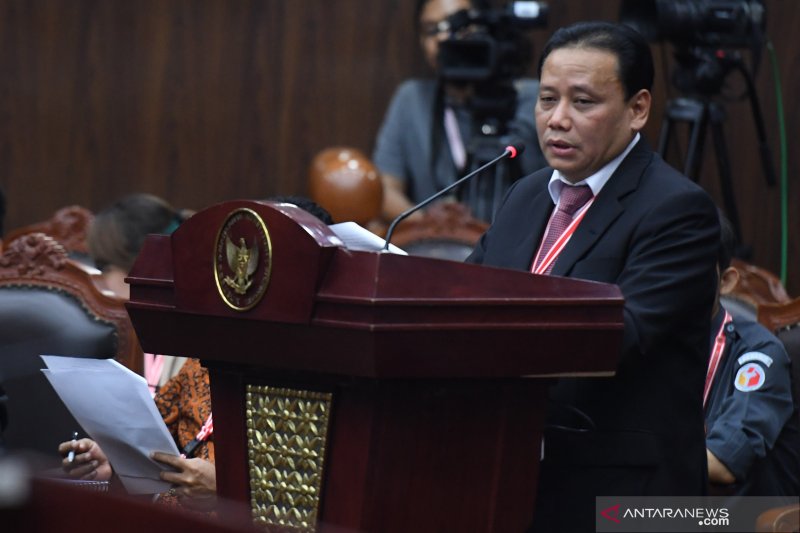 The General Election Supervisory Board (Bawaslu) of the Republic of Indonesia stated that it had never received a report on intelligence support for one of the candidate pairs and police officers carrying out data collection on support in communities for presidential and vice presidential candidates.
"The Petitioner in the argument argued that there was an intelligence alignment with one of the presidential and vice-presidential candidate pairs. That Bawaslu and its staff had never received a report or received a report related to intelligence to one of the candidate pairs," said Chairman of Bawaslu Abhan in the Constitutional Court Building in Jakarta on Tuesday.
In a lawsuit filed by the candidate pair Prabowo Subianto-Sandiaga Uno, it was claimed that the Pasirwangi police chief, Garut District, was ordered by the Garut police chief to garner support for the candidate pair Joko Widodo-KH Ma'ruf Amin.
Abhan said the Bawaslu of Garut District and Bawaslu of West Java Province had never found or received reports related to the non-neutrality of the police in Garut District.
Bawaslu of Garut District, said that he had conducted an investigation by clarifying events on April 4, 2019 with former Pasirwangi police chief adjunct commissioner AKP Sulman Azis, the City Police Chief of the North Sumatra Police, Commissioner Uus Susilo, the Karangpawitan police chief Commissioner Oon Suhendar and Kadungora police chief Commissioner Jajang Rahmat.
Based on the results of the clarification, the facts from Jajang Rahmat found that a meeting with the Garut Regional Police Chief was held regularly twice a week to discuss the mapping of regional vulnerabilities, in order to maintain public order in each region.
In addition, Uus Susilo said the Garut Police Chief ordered a mapping of areas prone to conflict in the 2019 Election, but there was no order to support one candidate pair.
"After the investigation process was conducted, Garut District Election Supervisory Body concluded that the incident could not be used as a finding of alleged election violations, because formal and material requirements were not fulfilled," Abhan said.
(INE)
Reporter: E002
Editor: Fardah Assegaf
Copyright © ANTARA 2019