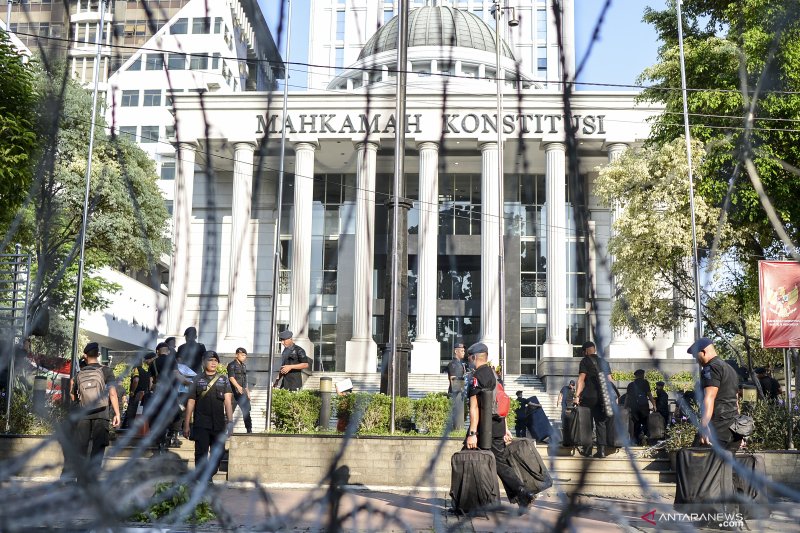 Vice presidential candidate Ma'ruf Amin did not violate the general election rules over his position in the supervisory board of Bank BNI Syariah and Bank Mandiri Syariah, subsidiary companies of state-owned banks, Ali Nurdin stated.
General Election Commission (KPU) lawyer Nurdin noted during the trial of the electoral dispute at the Constitutional Court here on Tuesday that the two subsidiary companies' shares are separate and they are not government shares.
Moreover, the position in the supervisory board in accordance with article 1 of Law No. 21 of 2018 is described as a party that provides service to shariah banks, such as those of a public accountant, assessor, and legal consultant.
"Hence, Prof. Dr KH Ma'ruf Amin, as a vice presidential candidate, is not obligated to resign from his position in the supervisory board of PT Bank BNI Syariah and Bank Syariah Mandiri," he clarified.
Amin's position in the board could not be equated with those of commissioners, directors, or other high-ranking officials in shariah banks, he remarked.
He asserted while confirming that Amin's position is not that of an official or worker of state-owned companies, and he is eligible to run in the presidential race.
Amin is currently chairman of the supervisory boards of Bank Mandiri Syariah, Bank BNI Syariah, Bank Muamalat, Bank Mega Syariah, and BNI Life.
After completing the tabulation of ballots in the April 17 presidential election, the KPU had officially announced President Joko Widodo (Jokowi) as the winner, with 55.5 percent, or 85 million votes, cast in favor of the Jokowi-Ma'ruf Amin pair, while rival pair Prabowo Subianto-Sandiaga Uno had secured the remainder 68 million votes, or 44.5 percent.
However, Subianto, a former military general, has challenged Jokowi's victory in the Constitutional Court, alleging the incumbent president of electoral fraud.
Related news: Constitutional Court affirms independent in resolving election dispute

Related news: Police advise people against visiting Jakarta over election dispute

Related news: Police strengthen security around Constitutional Court
Close
Reporter: S022
Editor: Azizah Fitriyanti
Copyright © ANTARA 2019