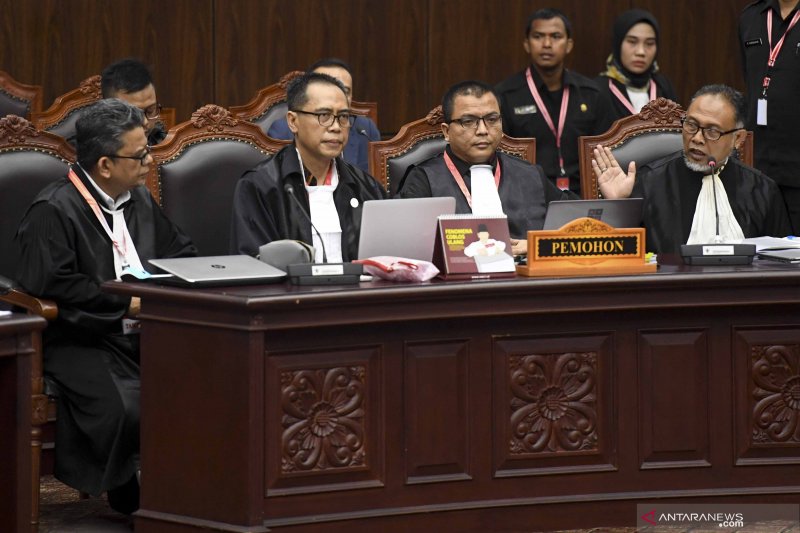 The Prabowo Subianto-Sandiaga Uno team's legal counsel Teuku Nashrullah, at the 2019 presidential election dispute inaugural session organized by the Constitutional Court (MK) has encouraged the Court to not just adjudicate on the difference in vote acquisition but also fraud in the election.
He cited some former chief justices of the Constitutional Court and constitutional law experts, including Yusril Ihza Mahendra, who is the legal counsel of the presidential and vice presidential candidate pair Joko Widodo-Ma'ruf Amin.
"After over a decade of the existence of the Constitutional Court, it is time for the legislators or also the Constitutional Court itself to use its authority to move in a more substantial direction in examining and adjudicating on electoral disputes, particularly in this case the presidential election dispute," Nasrullah remarked when quoting Mahendra as he read out the application file at the MK Building in Jakarta on Friday.
Mahendra had stated at the time that the Constitutional Court should also adjudicate on elections over whether they were held constitutionally and not solely on disputes over acquisition figures.
Moreover, Nashrullah quoted state law expert Saldi Isra, who is currently the Constitutional Court judge, by saying that restrictions can be broken in the event of structured, systematic and massive violations (TSM).
The former chief justice of the Constitutional Court Arif Hidayat was also quoted as saying that to realize substantial democracy, during the trial process, the court could adjudicate not only on the dispute over election results but also on the entire electoral process proven to have violated the principles of free and fair elections.
"This is an effort of the Constitutional Court to achieve substantial democracy and not only procedural democracy," Nashrullah remarked while quoting Hidayat.
Former chief justice of the Constitutional Court Jimly Asshiddiqqie also quoted the spirit of dispute resolution should not only be limited to cases but also entail the process of corroborating fraud in the elections.
Indonesia had held simultaneous legislative and presidential elections on April 17, 2019.
The General Elections Commission (KPU), on May 22 at 1:28 a.m. local time, had declared the final results of the elections, detailing the victory of the Joko Widodo (Jokowi)-Ma'ruf Amin pair.
The final tally indicated the Jokowi-Ma'ruf Amin pair had won 85 million votes, or 55.5 percent of the national vote, as compared to contenders Prabowo Subianto-Sandiaga Uno's 68 million votes, or 44.5 percent.
The Jokowi-Amin pair had declared victory, while the Subianto-Uno pair rejected the KPU's official tabulation result and vowed to challenge it in the MK.
On May 24, 2019, a lawyer team of the Subianto-Uno pair filed a lawsuit at the MK over the disputed election results and alleged massive fraud during the electoral process.
EDITED BY INE
Reporter: E002
Editor: Fardah Assegaf
Copyright © ANTARA 2019